In Massachusetts, Father's Day is the kickoff to the grilling season. And is there anything better that the dad in your life loves more than grilling and endless hot wings? Here is a perfect recipe for Father's Day, and anyone can grill these wings. So if you feel like giving dad a break, no problem.

Why are these the perfect wings? Because they are grilled not deep fried. Grilling these chicken wings makes them so much better than traditional wings! Try them out on a new charcoal grill or pellet grill and you won't even believe the great flavor. Grilled wings are tender and juicy and the skin is crispy.

Grill over indirect heat, this cooks the wings slowly, cooking the meat perfectly, and makes the skin nice and crisp; the result is a delicious wing. When they are almost done, take them off the grill and toss them with a mixture of honey and barbecue sauce and put them back on the grill to set the glaze and caramelize.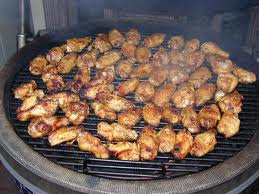 Sweet and Hot Honey Hot Wings
Ingredients:
1 cup molasses-based barbecue sauce
1 cup honey
12-ounce bottle Frank's Red Hot Original
heavy-duty zip-close plastic bags - 2 gallon-size
4 pounds chicken wings
4 tablespoons olive oil, divided
sea salt to taste
Instructions:
Mix together the barbecue sauce and honey. Refrigerate.

Divide the bottle of Frank's hot sauce evenly between the 2 plastic bags. Add half of the chicken to each bag, then seal the bag and turn to coat evenly. Refrigerate to marinate for at least 2 hours, or up to overnight.

When ready to cook, heat one side of the grill to medium, the other to low. Remove the barbecue-honey sauce from the refrigerator to warm to room temperature.

Open each bag just at the corner and drain the marinade. Add 2 tablespoons of olive oil and a pinch of salt to each bag, then reseal the bags and shake gently to coat. Transfer the chicken to the cooler side of the grill.

Cover the grill and cook for 40 minutes, or until starting to brown. Remove the chicken from the grill and place in a large bowl. Pour the barbecue-honey sauce over the wings, then use tongs to toss them to coat well.

Place wings back on the grill for another 15 to 20 minutes. Remove from the grill and let rest for 5 minutes before serving.

When these are grilled over hardwood charcoal on a ceramic charcoal grill, or over hardwood pellets in a pellet grills, the flavor is fantastic. These will easily be the best wings your dad or husband has ever had!

For more information on grills for Father's Day, contact West Sport.