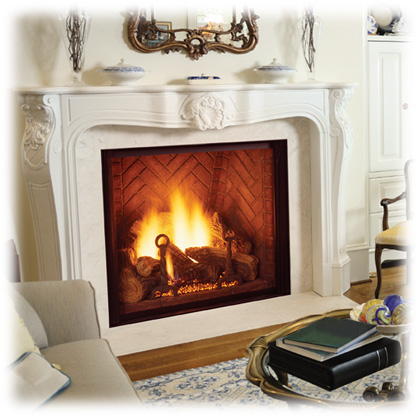 Ventless gas fireplaces literally do not have any venting which makes it a little more economical to install. Homeowners love the practicality of this heating device because it only requires propane or natural gas and the air circulating in the room where the unit is to be used. Not to mention, you get to enjoy a roaring fire at the touch of a button! No mess or fuss.
This type of fireplace can produce enough BTUs to be considered an alternative or secondary heating source. It can efficiently heat a room, and you'll find there are a wide variety of styles and designs that look just like a traditional fireplace and mantle. Gas Fireplaces can even be hooked up to a thermostat, for a constant temperature. Keep in mind when you are purchasing a vent-free gas fireplace that West Sport handles all of your installation needs.
A ventless gas fireplace is an excellent addition to any household and can improve the décor greatly, as well as increase your home value. They can mimic a roaring fire just as well as a traditional fireplace, without the effort. If you are interested in how to improve the style or character of your home fill out a request for quote form, and the Grill and Fireplace Shop at West Sport will help you with your purchase.