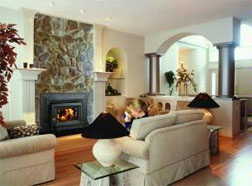 The weather channel says that Massachusetts may get snow on Thursday night. Are you ready? Cozy up this winter with a new wood burning fireplace inserts.

Wood fires are just…relaxing. They make you forget that you need to go outside and shovel. Feel the warmth of your home as soon as you walk in the door from your long day at work. And, with wood burning fireplace inserts from Hearthstone, the fire burns for a long time, so there is so little maintenance with this insert.

Transform your fireplace into a gorgeous heat source with large space performance. By adding a fireplace insert you also transform the room into a gorgeous space where you can relax, entertain or enjoy the family.

If you are interested in creating an oasis of warmth and beauty in your home this winter, contact West Sport in Sudbury, where we always have a wood fireplace insert burning. Come on in and see how beautiful they really are.