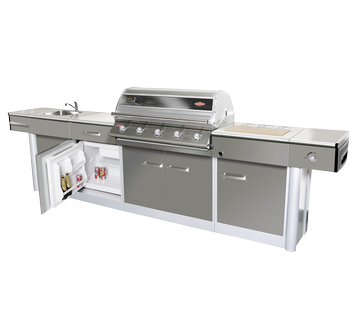 In this economy there's not much leftover spending money, backyards are the vacation of choice for many. Just open the door and there you are!
How to make your backyard a relaxing and fun refuge? The experts say good lighting, fire pits and good seating and/or dining spaces are essential. Don't forget the grill.
Making the backyard a fun place to relax will cost some money, but it will always be there, so it is an investment.
Is there space in the backyard for a mini-kitchen? A complete outdoor grilling area where you can cook a full meal is the new hot item in homes; entertaining and cooking while you and your family and friends are enjoying your wonderful backyard.
How about patio furniture? For a comfortable outdoor space, get rid of the old folding patio chairs. OutdoorSeating that is comfortable, and that you like, not seating that is on sale, is important if this is to be your new vacation spot. Buy patio furniture that is waterproof and won't need sanding and staining or painting on a regular basis.
Even some summer evenings can get cool so fire pits are a great investment. There's nothing like a controlled fire in your backyard to enjoy on a regular basis. An in Massachusetts, gas fire pits are easy work and they extend your summer into the cooler nights of fall.
If you need help deciding what will work for your space, visit us at The Fireplace and Grill Shop at West Sport, conveniently located near Natick, Framingham and Marlborough. We can help you with ideas and design, and we'll come to your home to measure too.