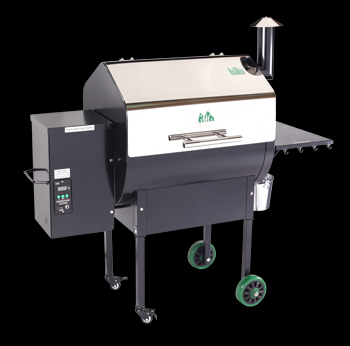 Green Mountain Pellet Grills are the new way to grill. Easy as gas, tastes like charcoal. Are you looking for a new grill for Memorial Day Weekend? This is the perfect choice for easy, gourmet hardwood grilling.

This pellet grill comes with a digital control, a meat probe, enough size for stand-up chicken or rib racks, a convenience tray with utensil hooks, hard rubber tires and a firebox for cyclone combustion. It also has a thermal sensor which constantly monitors the ambient temperature. When it gets cold outside, it kicks the grill into Turbo mode so you don't have to wait long for the grill to heat up!

Pellet grills can be used for smoking, grilling, roasting and baking. You can cook anything on a pellet grill. Best of all, on pellet grills you can't overcook or burn your food.

For information on Green Mountain Pellet Grills, contact West Sport. Looking for some great, easy Memorial Day grilled appetizer recipes? Look no further…

Bacon Wrapped Shrimp
Use extra jumbo (16-20 shrimp per lb.), jumbo (21-25 pcs/lb) or extra large (26-30 pcs/lb). You can usually buy these frozen, peeled and de-veined. Or you can buy them fresh and do that work yourself. Remove the tails because you cannot digest shellfish exoskeleton.

Buy very thin bacon and grill 1/2 slice per shrimp on a frogmat at 275°F (135°C) until it is almost edible. Let the bacon cool a few minutes until it is easy to handle. Clean the bacon grease off of the grease tray.

Drizzle a small amount of lime juice and pineapple juice on the shrimp. Wrap each shrimp tightly with 1/2 slice of the bacon. If you wrap very tightly you will not need toothpicks, but if you need to use them, pre-soak for 20-30 minutes in cold water.

Grill at 425 for 5-7 minutes per side until the shrimp is pink and the bacon crisp. Don't overcook the shrimp as they will get rubbery and chewy.

Pellet Wings
If you need to improvise a snack for hungry kids or a party, this is a great candidate. Buy the bags of frozen wings or drumettes available at warehouse groceries for the best value.

Marinate in soy sauce, garlic, Tabasco, and brown sugar for at least two hours.

Grill at 275-325°F (135-163°C) for 45-60 minutes. If you want char, baste frequently with GMG Cherry Chipotle BBQ Sauce. Be sure to eat these dipped in Green Mountain "S.O.S.S."!