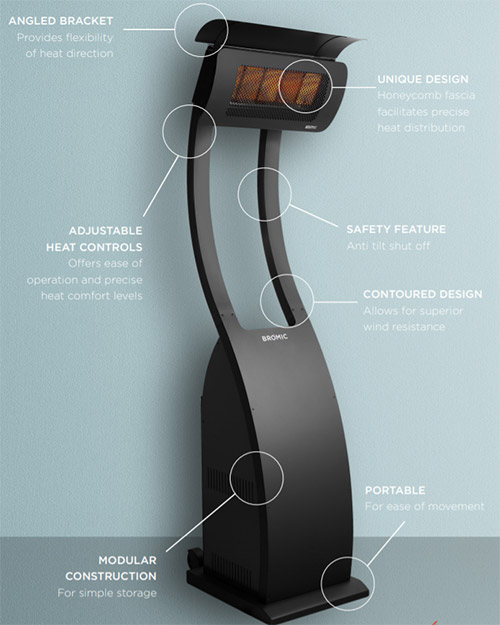 Portable gas and propane outdoor heaters extend your outdoor sitting areas deep into the cooler seasons in Massachusetts. All Bromic patio heaters are designed and engineered to ensure the highest quality and performance.
They are constructed from premium materials to create world-leading outdoor heaters that offer the perfect balance of performance, reliability and beauty
Wide Heat
Widespread heat output, up to 13ft wide and 16ft deep, to provide coverage of up to 65ft2.
Tailored Control
Ensure just the right level of comfortable heat with Bromic's unique and patented adjustable heat controls.
Ceramic Efficiency
Delivery of optimal heat with minimal heat loss is assured via high-intensity ceramic burners.
Wind Resistance
Contoured design fir superior wind resistance.
Directional Heat
Warmth where you want it with an innovative adjustable tilting head.
Modular Design
Easy assembly, dismantling and storage thanks to a functional and pragmatic design.
Maneuverability
Easy mobility even in tighter spaces with an anti-tilt structural design and built-in wheels.