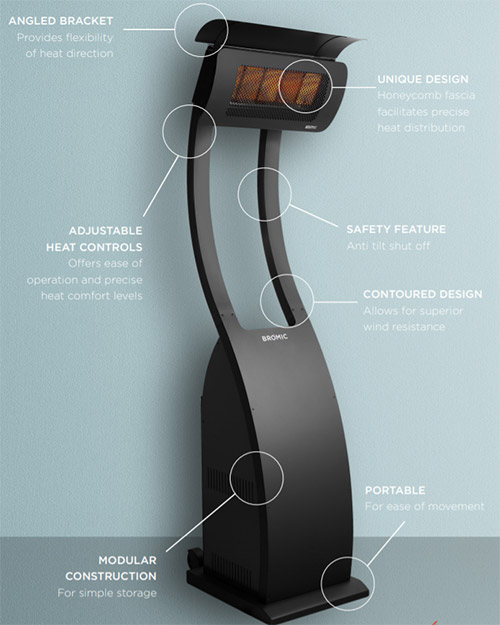 Bromic outdoor patio heaters are recognized all over the world for superior design and performance. From hotels and restaurants to outdoor kitchens and backyards, Bromic outdoor heaters deliver the perfect balance of performance, reliability and beauty.
HEATING PEOPLE, NOT PLACES: THE FUNDAMENTALS OF HEAT TRANSFER
Outdoor heaters can bring instant comfort to any outdoor space. However, contrary to enclosed spaces, which can easily retain the heat, outdoor spaces are a lot more exposed to the elements and therefore require a much more effective heat transfer method. So, what kind of heat transfer technology should you consider for your outdoor space?
Radiant or convection?
Most of us will be familiar with convection heaters that can quickly fill up a space with warm air by circulating it around the room. However, since an outdoor area is not a space confined by walls and a roof structure, forced air systems are not effective in controlling the ambient temperature outside. In an outdoor environment, hot air rises and quickly dissipates and even the slightest breeze will diminish the effect of the heating system, making a forced air heating system impossible.
The only way to heat an outdoor area is through infrared radiation. Radiant heat warms objects, not the air, similar to the experience of the sun warming your skin. This method involves projecting infrared heat onto people rather than moving warm air into the outdoor patio. Because radiant heat warms objects and not the air, radiant heaters have a higher resistance to wind and can still warm people even in mild wind conditions.
For more information on Patio Heaters , contact The Fireplace Shop and Grill Center at West Sport.