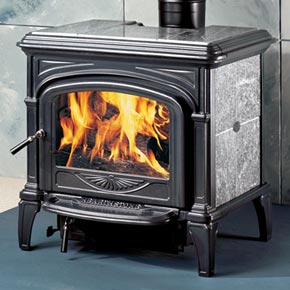 New Year's Eve is just around the corner, and with the New Year the home energy tax credit expires. We can help you. You have until December 31, 2010 to purchase your wood or pellet burning fireplace, fireplace insert, or stove if you want to take advantage of this tax credit. At West Sport Grill and Fireplace Shop, we have everything you need to take advantage of this money savings. But, we are also offering $200 off every Hearthstone pellet or wood burning stove, insert or fireplace. We feel that Hearthstone will meet or exceed your expectation which is why we have decided to offer this additional money savings. Burning wood is one of the most romantic, beautiful and satisfying ways to heat your home.
Wood burning stoves, inserts and fireplaces can be very economical, while also offering the additional benefits of a beautiful flame, relaxing warmth, and a romantic ambiance.
Environmental concerns and strict EPA regulations have helped wood stoves grow in popularity. EPA-certified stoves now burn 72-82% more cleanly than those of the past. Wood has a much higher BTU capacity than gas, and wood is also a renewable resource. The tax credit is being offered for all hearth appliances that use renewable energy- this means wood or pellet burning. You can count on wood and wood pellets being around as a reliable and clean source of fuel for years to come. With rising fuel and gas prices, wood stoves are a much more economical way to heat your home. And you will stay warm even if your power goes out.
Happy Holidays from West Sport, this is our gift to you, as our neighbors. Come in and save $1500 dollars before December 31.