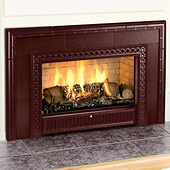 If you are looking for a way to bring Valentine's Day to your home every day, add fire. A gas fireplace or insert can be added to any bedroom. Change the look and feel of your bedroom with easy installation and instant ambience. There is nothing more romantic or relaxing than a roaring fire. And, let's face it, cluttered with exercise bikes, kid's toys and laptops, these days the master bedroom needs a little help. With warmth and firelight, a gas fireplace or insert can change all of that.
A direct vent gas fireplace or insert is easy to install and simple to use. Many people like the look of a traditional fireplace to make their living space feel cozy and that is what makes gas so desirable. There are numerous benefits to being able to have that roaring fire without the added hassle and mess.
At the touch of a button, your master bedroom goes from fizzle to sizzle. With either a traditional style or modern look, West Sport has a gas insert or fireplace for your tastes.
Making your way home on those freezing winter nights can be so much more enjoyable knowing that what welcomes you home is a warm master bedroom with a whole new look and feel. And waking up on those cold winter mornings is so much easier when, with a remote control, you can turn on the fire without even touching your blankets. You can enjoy the romantic setting in front of the fire with warmth and firelight as your new decor.