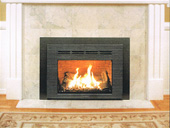 Interested in a gas fireplace for ease, heat and beauty? Hearthstone has the perfect gas fireplace insert for your beautiful Metrowest home. Your fireplace is the focal point of your home, the heart of your home where friends and family gather. Make it even more efficient, beautiful and easy to use with gas. A HearthStone gas fireplace insert is designed to fit perfectly into your fireplace.

Just flick a switch or use the remote control from your couch and instantly have a fire with no work, and no mess. With an adjustable flame height, Hearthstone gas fireplace inserts will keep you warm and comfortable. Gas fireplace inserts are available soapstone or cast iron and enamel finishes. The Larkin gas fireplace insert by Hearthstone heats up to 1,700 sq. ft. too!

With so many options, and the best customer service around, West Sport can help you find the best gas fireplace for your home; Contac us.