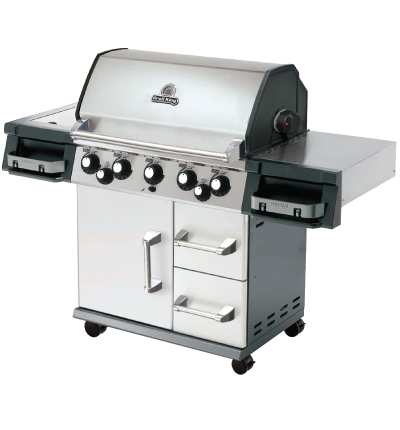 Nothing says warm weather better than sitting around in the yard grilling up a hamburger or delicious steak on an outdoor gas grill. Gas grills, fueled with either propane or natural gas, have become the grill of choice not only because of their convenience, but because they are efficient. Today's gas grills are even more convenient and user friendly than in days past. With side burners, automatic ignition, infrared burners and other amenities, grilling on gas is better than ever.

Among those who love to grill food there is a great deal of utility in gas grills. But gas grills are also great for the novice or weekend griller. They heat up extremely quickly, and there are no messy coals to deal with. Better yet, the temperature is so easy to control, just turn the knob for a high or low flame. Because they are so easy to light, you can light the grill when you are ready to begin grilling, rather than waiting until it heats up. This makes it much easier to make the decision to have a healthy grilled meal for dinner.

Enjoy the convenience of a new, updated gas grill. If you're cooking for the family, or if you love to entertain with friends and neighbors in the backyard, with modern gas grills, you can use your grill to sear meat, use it as an oven, or a slow roaster, and cook any food you'd like. At West Sport we assemble, service and deliver every grill we sell.