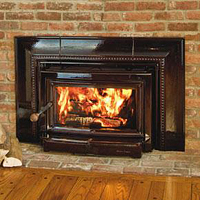 Gas prices are rising and so are the fuel costs for heating your home. Wood fireplace inserts are a perfect solution. The Hearthstone wood fireplace insert is a beautiful and efficient solution. By supplementing your home heating system, or replacing it altogether, with a wood burning insert, you can decrease your heating bills and enhance the ambience and beauty of your home, all while raising the value of your home.
The Clydesdale wood burning fireplace insert brings with it both heating power and beauty. This insert will warm up to 2000 square feet of space and with a burn time of 10 hours, you can come home to a beautiful fire and a warm home every day. Available in three different finishes, you can surely add flair and style to your living room with this beautiful fireplace insert.
At West Sport in Sudbury, we show this insert burning every day and it will surely take your breath away. Come on in and see it in use and you will understand why Hearthstone in general and this insert in particular are sought after as one of the most productive, efficient and beautiful heat sources for any home.
Comments (28)
|
Trackbacks (0)
|
Permalink
|
|