The foods and meals that are being grilled out these days are really evolving. You need a grill that can accommodate all of your needs. Surveys have been done that show when grilling, people have moved far beyond standard picnic fare to grilling turkeys, gourmet meals, seafood, ethnic foods and more. According to the study, 14 percent have even grilled their breakfasts! Trends have inspired the marketplace to develop grills that meet consumers changing needs. You can now add versatility to your gas grill with accessories like rotisserie spits, side burners, smoker attachments and cast iron cooking grids. Beefeater Gas Grills even makes a pizza oven component for their grills!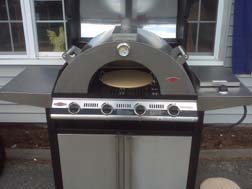 At West Sport in Sudbury, near Framingham, consumers can choose from a wide range of sizes and styles of gas grills and grilling accessories. We offer all types of makes and models built from stainless steel and porcelain enamel. When buying a new gas grill, consider your outdoor area, there are so many sizes and styles of gas grills, including built ins, that whatever you need, you can find here.

The old way of grilling, only hot dogs and hamburgers, went out of style a while ago. It is time for a new grill for the new way of grilling. Invite the neighbors, invite your friends, and host the block party. With a new gas grill from West Sport you are going to want to grill all the time. We offer free assembly and delivery on all the grills we sell. Stop by today.
Comments (25)
|
Trackbacks (0)
|
Permalink
|
|