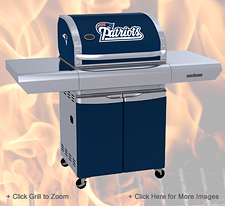 Well the NFL playoffs begin next weekend and so continues the great past time of tailgating! Whether you are tailgating in Foxboro or in the backyard, you can still have the best tailgate party ever; you definitely do not have to be at the game to have a great time.
First things first, call friends and family and have everyone bring their best tailgating food. Not everyone is a New England fan, which makes the party more fun as all the guests show with their game faces on and their tailgating gear; logos, chairs, shirts, hats, coolers. There is an unwritten contest on who shows the most spirit with all their tailgating and team logo apparel.
We have a way for you to win the contest. Show your New England Patriots team spirit with the team grill. We bet no one else will show with one of these! Have a couple of great tailgate grilling recipes up your sleeve.
Your house will be the place to be, and having the finest tailgating grill is imperative. Once your grill is roaring, the outdoor fire pits are lit, and the beer is chilled, you are ready for kick off.
Comments (1)
|
Trackbacks (0)
|
Permalink
|
|