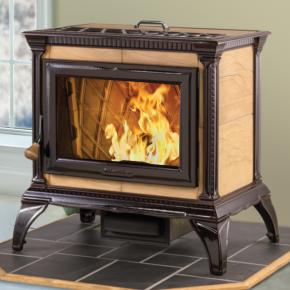 Many people have been coming into our shop lately and inquiring about pellet and gas stoves. However, once they see our beautiful hearthstone wood burning inserts, they begin asking questions about wood. I thought I would take this opportunity to tell you a couple of the pros and cons about all three types of fuel for inserts, fireplaces and stoves.
Gas heating appliances are easy to use, more economical than you would think, and they can be connected to a thermostat for a consistent heat. Also, many come with a remote control, so literally, at the touch of a button you can be sitting in front of a roaring fire. However, gas is not a renewable source of energy, and you will still pay the high fuel prices. Though they are a more efficient way of heating; gas stoves, fireplaces and inserts are generally a convenient secondary or supplemental heat source for your home.
Stoves and inserts that use wood pellets for fuel can produce quite a bit of heat. They are very efficient and for the most part, are mess free. The pellets can be stacked easily in the garage or shed in bags and they burn very efficiently. Pellet stoves can be used to heat your whole home throughout the winter. And though they do not have the pretty flame we are used to with burning wood, manufacturers today are making more attractive pellet stoves to suit more needs. Probably the biggest drawback to a pellet stove or insert is the need for electric power to run. In a snowy Nor'easter, if there is no power, there is also no fire.
Wood makes a beautiful fire; wood is a renewable fuel source -so no more huge heating bills; and wood burning fireplaces, inserts and stoves can heat your whole home all winter. Manufacturers of wood burning heating appliances have much higher standards making stoves, inserts and fireplaces that are more efficient with higher EPA ratings today than in the past. Therefore, pollutants are reduced and efficiency is increased. So then what are the drawbacks to wood? Wood requires storing and lugging. As opposed to gas and pellet, when you get home from work, you cannot just push a button and have a fire to relax in front of.
All of these fuel sources have a place based on your lifestyles, your home and your needs. At West Sport, our goal is to help educate you on all the fuel sources available. We want you to make the right decision for your home and family so that you can get the most enjoyment out of your new fireplace, stove or insert.