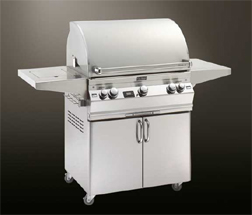 Warmer temperatures and longer days make you think about grilling. For outdoor grilling enthusiasts, this is a favorite time of year. But do you have the right gas grill?

With so many gas grill options, consider what you want and how you want to grill before you go shopping. Do you like to cook every dinner on the grill in the spring and summer, or are you a weekend griller? Do you grill for large crowds or for the family only? Is grilling a new hobby or are you an aficionado?

With so many options in outdoor gas grills and all the features to choose from, here are some things to think about before you shop. Have more questions? Give us a call or stop by and we can help you out.

How do you use your gas grill and what types of accessories would make your grilling experience easier and more fun and exciting? For instance: Do you want a side burner – perfect for side dishes or corn on the cob. Do you want a rotisserie option –roasts and whole chickens are delicious grilled on a rotisserie. How many people do you grill for? This will determine how much space you will want to grill with. Remember that enameled cast iron grates and burners are often recommended by grill experts. They also make grilling and grill clean up easier.

At West Sport in Sudbury, we have a large selection of the best gas grills and everything you'll need for grilling (except the meat). We even have some clearance gas grills. Best of all, we have free installation, set -up and delivery of all the grills we sell, and we also sell all the replacement parts. Buying a gas grill from a big box store may sound like a great idea, but buying a high quality gas grill that you will have for years from a store where you can build a relationship is far more valuable. We'll ask you questions that you haven't even thought of in order to be sure that you are buying the right grill for your lifestyle.

Come on in, because we have grill specials this March: free propane fill, free bag of hardwood charcoal or free bag of hardwood grill pellets with your purchase. Don't forget to print and bring in our Gift Certificate and use it toward your purchase.
Comments (0)
|
Trackbacks (0)
|
Permalink
|
|