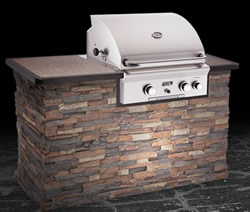 What used to be a deck with a grill, an umbrella and a metal picnic table is now an outdoor living area. Outdoor living spaces, including outdoor kitchens are now all the rage, they are taking over.

Instead of the old deck, homeowners are now creating outdoor living spaces with the functionality of 2 rooms. Outdoor kitchens, where the fun happens. With spectacular gas grills or multi functional charcoal grills, sinks and brick ovens. Then there is the outdoor living space, with comfortable and durable outdoor furniture, and fire pits, it is the space to "hang out".

Outdoor kitchens have become a big trend. According to the HPBA, eating outdoors has overtaken eating out as the popular dining option. What's more, no one has one grill anymore, now you see 2 or more types of grills both charcoal and gas for different types of cooking.

Many people like the built in outdoor grills. Another one of the hottest items in outdoor kitchens are the ceramic charcoal grills like Kamado Joe. But even Kamado Joe, knows that more people what two types of grilling options, they have developed a ComboJoe, a combination charcoal and gas grill.

The best part about outdoor living spaces and outdoor kitchens is, there are no rules. You can build it however you like and you can build it in stages. The weather is perfect for beginning this project. Start now and you'll be eating out in your outdoor kitchen in no time. Contact West Sport for information on grills and for help with your outdoor kitchen designs.