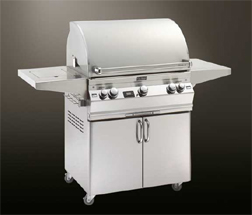 The beautiful weather has hit us in full swing already. You have certainly been fixing up the yard and now it is time to get your patio area ready for outdoor entertaining. With gas prices sky rocketing, invest in a new gas grill and save money.

How do you save money by buying a new gas grill? The best gas grills are made entirely with all 304 stainless steel which resists rust and wear and tear. The burners are well made and all have warranties that you can take advantage of in the event that something goes wrong. But even better, 304 stainless steel gas grills are perfect for the higher end grilling that is now being explored today. Grilling is no longer for hot dogs and hamburgers only. Grilling is for rotisserie roasts, smoked chicken, vegetables and pizza.

By reinventing your patio area, you can do more fun and exciting entertaining at home. Don't spend money on gas driving to eat out and going elsewhere for entertainment. When your patio is a relaxing oasis, you can relax and enjoy yourself right at home.

Time for a new grill for the new way of grilling. Invite your friends, have a party. Contact West Sport for the latest in gas grills.
Comments (0)
|
Trackbacks (0)
|
Permalink
|
|