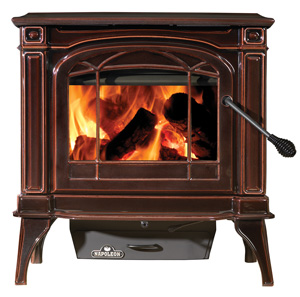 Even though it is warm there is still interest in wood stoves. I guess here in Metro-West Massachusetts we still haven't really recovered from the winter. Alternative or supplemental heating for the winter is still on a lot of people's minds.
In fact a report by a nonprofit group Alliance for Green Heat shows that wood heating dominates the residential renewable energy market, even with virtually no government subsidies to support it.

At the Fireplace and Grill Shop at West Sport, we have been fielding quite a few questions about wood heat. There are many styles and sizes of wood burning stoves and inserts. Options that can fit in any style home, from rustic to contemporary and that can either heat the whole home or can heat a few rooms.

A wood burning fire offers you increased heating efficiency as well as ambiance. We offer a wide variety of wood burning stoves at West Sport, and we take care of the installation as well. With brands like Hearthstone and Napoleon, no one knows more about wood burning technology in the Metro West area than the professionals at West Sport. Many of our wood burning stoves and inserts are the cleanest, most efficient wood burning stoves on the market. They meet or beat EPA standards and wood has a much higher BTU capacity than gas, as well as being a renewable resource.

A wood stove is one of the most romantic and efficient ways to heat your home, providing a beautiful focal point in any room. If you have some questions about wood as a means to help heat your home this winter, contact us at West Sport.
Comments (0)
|
Trackbacks (0)
|
Permalink
|
|