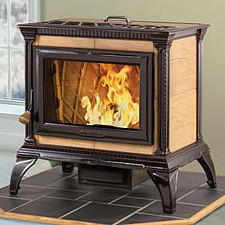 The Heritage pellet stove made by HearthStone is certified well below the EPA standards for emissions, making this stove both beautiful, and very clean and efficient. The Heritage combines high-end eye appeal and design made from cast iron and stone, with the largest, prettiest pellet flame on the market. Many people, when they think pellet stoves, think of an unattractive flame and an industrial style stove. But the Heritage will change your ideas about that.
This stove was designed for beauty and performance. This pellet stove is made to be eye appealing, but in addition it has an extra large viewing window, the largest on the market for a pellet stove, and the inside of the firebox is pretty as well.
When you get home and you want to get warm and relax, the heritage is beautiful to look at, inside and out.
This pellet stove is also efficient. It is thermostat ready, meaning the burn rates are modulated to maintain an even temperature in your home. The Heritage Pellet Stove has an extra large hopper which can hold up to 50lbs of pellets. And EPA standards are 7.5grams of particulate emissions per hour; the heritage is certified at 1.3 grams per hour! That is significantly below industry standards. Even better, the stove rates a heat output of 86% efficient. You don't even have to know what that means to know it is efficient!
So, if you are looking for different way to heat your home that adds beauty and value, is consistent, reliable and affordable, and addresses the need for renewable energy and lower emissions look at the Heritage Pellet Stove from Hearthstone. At West Sport we are combining the $300 tax credit with $200 off any Hearthstone product in our store. Save $500 on your new HearthStone Pellet Stove today.
Comments (9)
|
Trackbacks (0)
|
Permalink
|
|