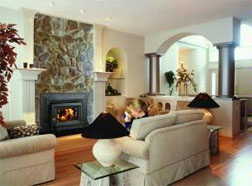 It has been a mild winter, it's true. But despite the mild temperatures, you still have to heat your home. Those who had the foresight to think ahead and purchase a wood burning fireplace insert or wood stove spent far less on heat this winter.

You can still be one of the lucky ones, one of the homeowners with foresight. There is still some winter left, and as a New Englander, you surely know that next winter couldn't possibly be this mild, there will be more winters!

Wood fireplace inserts and wood burning stoves are a beautiful and very inexpensive way to heat your home. In fact, we talked to a customer today who uses a wood burning stove for heat. Their heat hasn't gone on all winter with the wood stove burning! They will spend only about $1000 by the end of this winter to heat their home. That compares to at least $3500 (or more) for oil heat.

Wood burning fireplace inserts and wood stoves are not only efficient heat, they are conversations pieces, focal points, gathering spots for your home. Contact West Sport in Sudbury for more information.
Comments (2)
|
Trackbacks (0)
|
Permalink
|
|