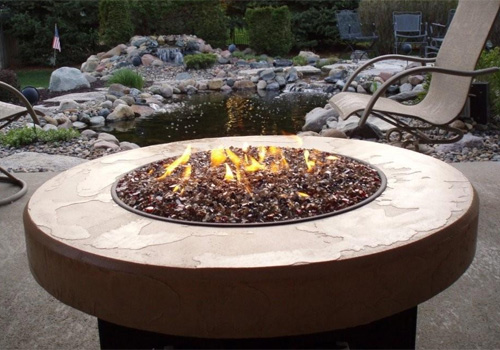 There is nothing better than sitting outside on a warm summer evening watching the sun set. But then as those warm breezes start to turn a little chilly; our thoughts turn to patio heaters.

But before you look at those boring old tall, metal heaters, consider a gas fire pit. A fire pit is far more useful than a mono-directional bar heater, it's circular design means that people seated 360 degrees around the pit can enjoy the warmth of a blazing fire.

A fire pit from Oriflamme combines urban style with the outdoors. Not only do gas fire pits provide ambiance to your outdoor patio, they are easy to use. These fire pits are where you and your family or guests can gather round, or you can enjoy some alone time in front of the flickering blaze. They are so easy to use that you wouldn't think twice about going outside on your own, starting the fire and relaxing.

With a traditional fire pit there is a lot more work to do to get it lit, and while those are fun, and have their place, Oriflamme fire pits are so easy and so different, you'll find yourself using it far more often. Entertainers and homebodies alike will love a fire pit which adds warm ambiance to your outdoor patio area.

Many people dislike overhead gas or electric patio heaters, although they work well in Parisian sidewalk cafés, with plastic "walls" zipped to contain the heat. The problem is overhead rays sometimes cook your head while your legs freeze.

Patio fire pits and tables, fueled by propane or natural gas, are a brilliant addition and a red-hot outdoor trend. To see what all the buzz is about, come see one for yourself at West Sport in Sudbury, serving all of MetroWest, MA.
Comments (0)
|
Trackbacks (0)
|
Permalink
|
|