Reclaimed Wood Island 77″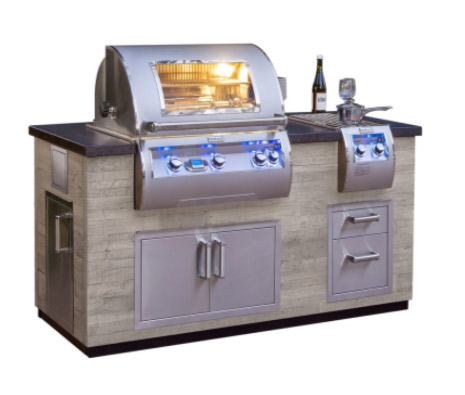 Constructed from durable Glass Fiber Reinforced Concrete and easily assembled on-site, our island systems are designed specifically for Fire Magic equipment and make a stunning outdoor kitchen. This material derives its strength from a high dosage of alkali-resistant glass fiber and acrylic polymer that is flexible without cracking.
Required Components (sold separately):
30″ Built-In Grill: Echelon E660i or Aurora A660i or E660i Gourmet Griddle
Echelon 32815 or Aroura 32817 – Double side burner
Double drawer
Double door
Single access door w/tank tray & louvers or Single access door or Trash cabinet
Stainless Steel Timer Box
Dimensions: 77"w x 34.5"d x 36.5"h
For more information and to receive $200 off outdoor kitchen components or a prefab kitchen island! contact The Fireplace Shop and Grill Center at West Sport in Sudbury.