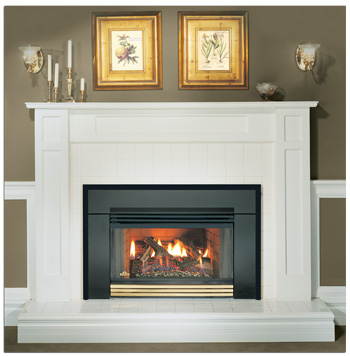 While many people love having a stove or fireplace insert in their home, many cannot decide if they should add a wood burning or gas burning stove or insert. While both are much more efficient than a traditional open masonry fireplace, they are very different.

There are some pros and cons to both:

Gas fireplace inserts and gas stoves are very easy to use. They are even more economical than you would think. They can also be connected to a thermostat and remote control. At the touch of a button you have a fire when you use a gas stove or insert.

However with gas, while more efficient than an open fireplace, you will stay pay high fuel prices. Gas fireplace inserts and gas stoves are better used as a secondary or supplemental heat source for your home.

Wood stoves and wood burning fireplace inserts have a beautiful fire. Also, wood is a renewable fuel so your heating bills will be much lower. The biggest advantage may be that wood stoves and inserts can heat your entire home.
However, wood does require storing, stacking and lugging around. So, for some, this might not be the optimum choice. But when it comes to relaxing in front of the fire, there is nothing like wood.

Both wood and gas have a place. Based on your lifestyle, home and needs, West Sport in Metro West Boston can help you decide what the best option is for your home. Contact us.
Comments (0)
|
Trackbacks (0)
|
Permalink
|
|