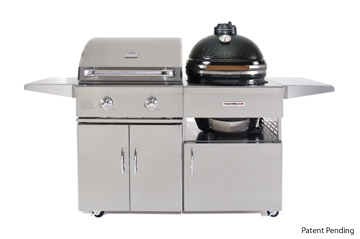 Outdoor grilling is an American tradition and May is National BBQ month. Everyone's summer memories involve grilling in the backyard. According to a survey there are three top reasons why Americans love to grill, : affordability, convenience, and great family time.

You could go out to dinner and spend on one dinner what you would spend for two perfectly grilled steaks and grilled vegetables cooked on your gas grill with the great ambience of your backyard.

Who wants to be inside once the weather turns great outside? And, no one wants to cook inside while it is hot outside. With the right gas grill or charcoal grill, you can cook your entire meal outdoors and enjoy the season to the fullest.

Best of all, outdoor grilling is a fun and relaxing way to spend time with family and friends. Grilling is social, and the more fun the grill the more fun the event.

Father's Day is just around the corner. A new grill is the perfect gift to give to dad. When you give him a new grill, you give him a fun toy, family time, and an opportunity to experiment. Owning both a gas grill and a charcoal grill gives the opportunity to cook all kinds of different things.

Prepare turkeys and roasts on the charcoal grill, or use the gas grill for other things. Gas grilling is quick and easy, but for those who really want to become a backyard chef, a charcoal grill is the preference.

Whether your choice is burgers, shrimp, or vegetables; gas grill, charcoal grill or pellet grill, take advantage of May, and spend it outside grilling.

If you are looking for a new grill to replace the one you have or to add to your repertoire of grills, contact West Sport where we have great specials on grills all through May.
Comments (10)
|
Trackbacks (0)
|
Permalink
|
|